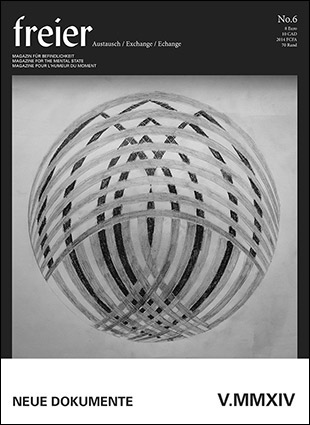 Coverdrawing by Nina Rhode, 2009
contributions from
Cameroon, Canada, France, Germany, Ghana, Jamaica, Sénégal,
South Africa
by
Zille Homma Hamid, Tempo Masino Laboratorion (Alexej Tchernyi,
Misha Schenbrot,Wu Zhi + Guests), Thabo Thindi, Simone Gilges,
Sadrake Pondi, Sabrina Moella, Romuald Dikoume, Peter Kisur,
Pakama Ngceni, Olumide Popoola, Odile Bernard-Shroder, Nina Rhode, Nico Ihlein, Ndoumbe Ewane, Nayani Thiyagarajah, Michelle Ndjongui,
Mamadou Gomis, Khady Jah, Justine Gaga, Juliane Solmsdorf,
Jeans Team, Hanna Prenzel & Stefan Endewardt, F M Ploch, Felix Kama, Fatou Kandé Senghor, Euridice Kala, Elsa M'bala, Elke aus dem Moore, DK Osei-Yaw, Dirk Bell, Boris Nzebo, Astrid S. Klein, Alexandra Müller, Akosua Elisha

84 pages black and white digital print, 19,5 x 26 cm, Edition 500

available now for 8 Euro / 10 CAD / 2014 FCFA / 70 Rand + shipping
freier is a magazine for the mental state created by a circle of friends based in Berlin between 1995 and today and published by the independent self-organized Neue Dokumente.
This new edition No. 6 "freier Austausch/freer Exchange" is an attempt to put contributions from different parts of the world, mostly from Africa and Europe, in a relation and dialogue.
The result is an approach of how this dialogue could feel like.
It is always good to exchange and change.
freier Austausch was edited by Simone Gilges and Elsa M'bala between November 2013 and June 2014. Simone Gilges is a berlin-based photographer and artist, publisher of freier-magazine since 2003.
Elsa M'bala is an educator and musician born in Yaoundé and raised in Germany and Cameroon.
Both met during the project "Crossing boundaries of doubt" in September 2013 in Stuttgart, a project by Astrid S. Klein.
The connections to the contributors from different continents and countries result out of large travel- exchange- and collaboration activities of the editors.